Experience Yellowstone At Two Safari-Inspired Locations
A Yellowstone Trip For The Ages
There's so much to see and do in the vast landscapes of Montana near Yellowstone National Park, and now we've got you covered with locations on two sides of the park! On the west side, experiences range from open Montana meadows with billowing brooks, famous geysers like Old Faithful and chance bison sightings. The lesser known north side boasts stunning Paradise Valley views, geothermal hot springs, the park's best wildlife sightings, and more.
Read on to learn about what makes each camp uniquely special as well as an example itinerary for a bucket list adventure!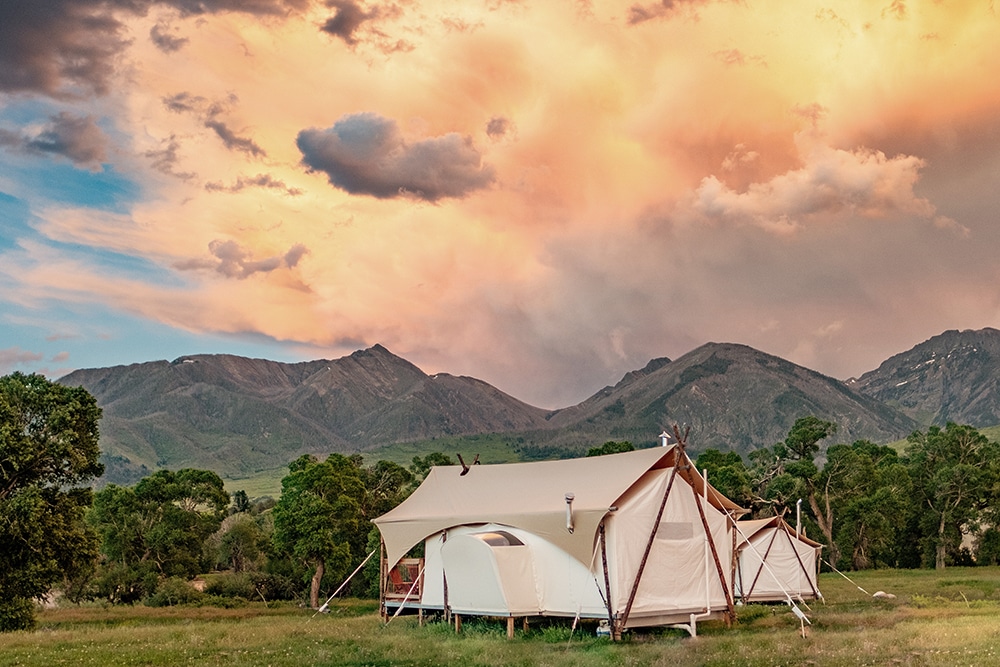 Under Canvas North Yellowstone – Paradise Valley
Situated in the stunning Paradise Valley, drawing recent fame via the Yellowstone television series set in its breathtaking high mountain plains and ranchland, this is your basecamp to explore the Wild West!
Just outside the charming towns of Livingston, Gardiner and Bozeman, Montana, this camp provides unprecedented access to the north side of Yellowstone National Park. Additional area offerings include bucket list horseback riding; on site, world-class fly fishing and river rafting; hiking, and live music at nearby Pine Creek Lodge.
Under Canvas West Yellowstone
Under Canvas West Yellowstone is located just 10 minutes from the primary entrance to Yellowstone National Park on the west side, serving as gateway to Montana's unique hydrothermal and geologic wonders, diverse wildlife and boundless means of outdoor recreation near America's oldest national park. With uninterrupted views of Montana's prairie landscape, Under Canvas' safari-inspired accommodations offer travelers a one-of-a-kind outdoor experience while discovering the wonders of West Yellowstone. This location is perfect for close access to the park and West Yellowstone.
Suggested 4-Day Yellowstone Itinerary
Experience all that Yellowstone has to offer and explore the unique North and West sides of the park with a stay at two Under Canvas locations.
Day 1: Land at Bozeman Yellowstone International Airport and drive 45 minutes to Under Canvas North Yellowstone – Paradise Valley. Check in to your upscale safari-inspired accommodations and grab coffee and lunch options from the lobby tent before heading off on your first day of adventure!
Take a scenic drive to the Mammoth Hot Springs. Your first stop will be the Albright Visitor Center where you can have your National Park Passport stamped and begin your first Yellowstone adventure. Numerous easy trails and boardwalks lead you to the natural hot springs, and a short drive takes you to the incredible travertine terraces, and limestone formations created by geothermal activity.
Wrap up your first day of exploring and head back to Under Canvas North Yellowstone-Paradise Valley where you will enjoy riverside al fresco dining, complimentary s'mores, acoustic live music, and more! Rinse off the day's adventure and tuck in to your king-sized bed before heading off the next day.
Day 2: Wake up and enjoy a morning flow with guided complimentary yoga. Fuel up with a fresh cup of coffee, or latte, and breakfast in preparation for your Under Canvas Adventure, planned through our Adventure Concierge.
Luxury Scenic River Trips pull up directly to Under Canvas North Yellowstone -Paradise Valley and take you to enjoy the splendor of the longest freestone river in the lower 48 states as you drift through calm waters to a private cottonwood bottom.
Fun fact: Montana Rivers are fed entirely by snowmelt and are even warm enough to swim in during June, July, and August!
Return to camp to refuel with Montana smoked meats and a local ale or any of our locally and sustainably sourced menu options!
And if you aren't done with adventure for the day, check out Pine Creek Lodge, a local music venue that hosts headlining artists from around the country.
Day 3: Wake up for your last morning at Under Canvas North Yellowstone – Paradise Valley and head south, stopping at Old Faithful Geyser along the way! Old Faithful Geyser is located in Yellowstone's Upper Geyser Basin in the southwest section of the park and is one of the most famous sites. This geyser viewing area is the most accessible and visitor friendly in the park so makes for a great pitstop between camps!
Head to our West Yellowstone camp for check-in. You can grab a book and hang in a hammock by the Madison River or a cocktail from the Bronco Bar, a restored horse trailer turned full service bar and enjoy the hum of acoustic live music on the outdoor patio.
Day 4: Wake up at Under Canvas West Yellowstone and enjoy breakfast from our café style dining restaurant, Embers. Get ready for your horseback riding adventure planned through your Under Canvas Adventure Concierge. Conveniently close to camp, these rides will lead you to breathtaking views of Hebgen Lake, the Continental Divide, the city of West Yellowstone, and Yellowstone National Park!
After a thrilling day of adventure head back to your upscale safari-inspired tent and tuck into your plush king size bed for your last night under the Montana stars!
Fun Fact: You'll likely be welcomed by rescue horses from our neighboring property! You might even get lucky enough to see a family of moose drinking from the Madison River or a friendly fox bouncing around. Please be respectful of the wildlife and maintain your distance as we cohabitate with them!
Email or call our Reservations Team at 888-496-1148 to customize your itinerary!
Old Faithful
A highly predictable and impressive geothermal feature that has erupted every 44 minutes to two hours since the year 2000.
Mammoth Hot Springs
A large complex of hot springs on a hill of Travertine created over thousands of years.
Tower Roosevelt
This region is where the buffalo roam, and the deer, pronghorn, elk, moose, bears, and wolves play. Also, Tower Falls is a must-see!
Norris Geyser Basin
The hottest, oldest, and most dynamic of Yellowstone's thermal areas.
Grand Canyon of Yellowstone
A spectacular canyon formed by erosion as Yellowstone River flowed over progressively softer, less resistant rock, measuring roughly 20 miles long from the Upper Falls to the Tower Fall area.
Grand Prismatic Springs
The largest hot spring in the United States, and third largest in the world, measuring 200-330 feet in diameter and more than 121 feet deep.
Your Greater Yellowstone Adventure is Calling!
Under Canvas offers locations around the U.S near some of the nations most popular national parks and extraordinary landscapes. Book your stay at Under Canvas North Yellowstone – Paradise Valley and continue the adventure at Under Canvas West Yellowstone.