Glamping Near Bryce Canyon National Park
Under Canvas Bryce Canyon
2024 Dates: May 9th – September 30th
Under Canvas Bryce Canyon–located just 15 minutes from Bryce Canyon National Park—offers upscale accommodations, 700 acres of high-alpine juniper forest, and easy access to the area's famed crimson-colored hoodoos. With average temperatures in the 70s and 80s, Under Canvas Bryce Canyon is the perfect place to cool off and unwind after a day of Utah adventures. Kick back and relax with upscale amenities including ensuite bathrooms in every tent, king-size beds with luxe linens, outdoor dining, complimentary camp programming, and more.
Travel + Leisure's 2023 It List "100 Best New Hotels in the World"
'Best Off-Grid Luxury Camp' by Sunset Magazine
"At 7,600 feet, wilderness lies just outside (and above) your proverbial doorstep, with antelope grazing nearby and stars lighting up Utah's impressively dark skies. Stick around come nightfall for on-site dining, campfire s'mores, and more. "
Travel + Leisure
"Under Canvas has spent a decade creating lodgings that let guests skip the sleeping bag and catch some al fresco "ZZZs" in safari-style tents outfitted with plush beds. Their 10th and newest outpost is set on 750 acres of high desert plains 15 minutes from Bryce Canyon National Park in Utah."
Wall Street Journal
Explore Under Canvas Bryce Canyon
Under Canvas Bryce Canyon is the place for epic Utah adventures
Explore the grandeur of Utah's natural beauty with a stay at Under Canvas Bryce Canyon. Our upscale, safari-inspired tents feature king-size beds with plush linens, ensuite bathrooms boasting hot showers, in-tent wood-burning stoves and sensational views. Set at 7,600 feet in elevation and surrounded by juniper forest, you can enjoy the beautiful surroundings and refreshing temperatures back at camp after a day of adventures.
Things to Do at Under Canvas Bryce Canyon
Red Canyon, UT
35 minutes
Part of Dixie National Forest, Red Canyon features limestone hoodoos and red rock canyons. Explore the many hiking and biking trails throughout the area.
Bryce Canyon National Park
15 minutes
A national park in Utah featuring red rock hoodoos, abundant recreation and beautiful sunrise and sunset views.
Under Canvas Bryce Canyon
Your upscale safari-inspired accommodations.
Widstoe, UT
5 minutes
A historic town site with old western buildings. The last residents of Widstoe left town in 1938.
Capitol Reef National Park
1.5 Hours
A national park in south-central Utah featuring golden sandstone canyons and striking rock formations including Capitol Reef, known for its towering white sandstone domes.
Grand Staircase-Escalante National Monumnent
1 hour
A national monument spanning nearly one million acres of America's public lands. An oasis for desert adventures from hiking to UTVing.
From Bryce, UT
From Bryce, Utah, head north on Hwy 63. At the traffic circle take the 2nd exit onto UT-12 W and take an immediate right onto John's Valley Road. Head north on John's Valley Road for 12 miles until you see the Under Canvas sign on the right side of the road. Follow the dirt road to the end. Welcome to Under Canvas Bryce Canyon!
From St. George, UT
From St. George head northeast on I-15, Veterans Memorial Highway, for 86 miles. Take exit 95 from I-15, for UT-20 East. Turn right at US-89 South. At the town of Panguitch take a left to continue on US-89 South (Center St.). Continue on US-89 South for 7 miles and turn left onto UT-12 East. Follow UT-12 East for 13.6 miles and take the third exit onto UT-12 South at the traffic circle. Turn right on John's Valley Road and follow it to the Under Canvas signs on the right side of the road. Follow the dirt road to the entrance of Under Canvas Bryce Canyon. If you hit Antimony, UT you have gone too far.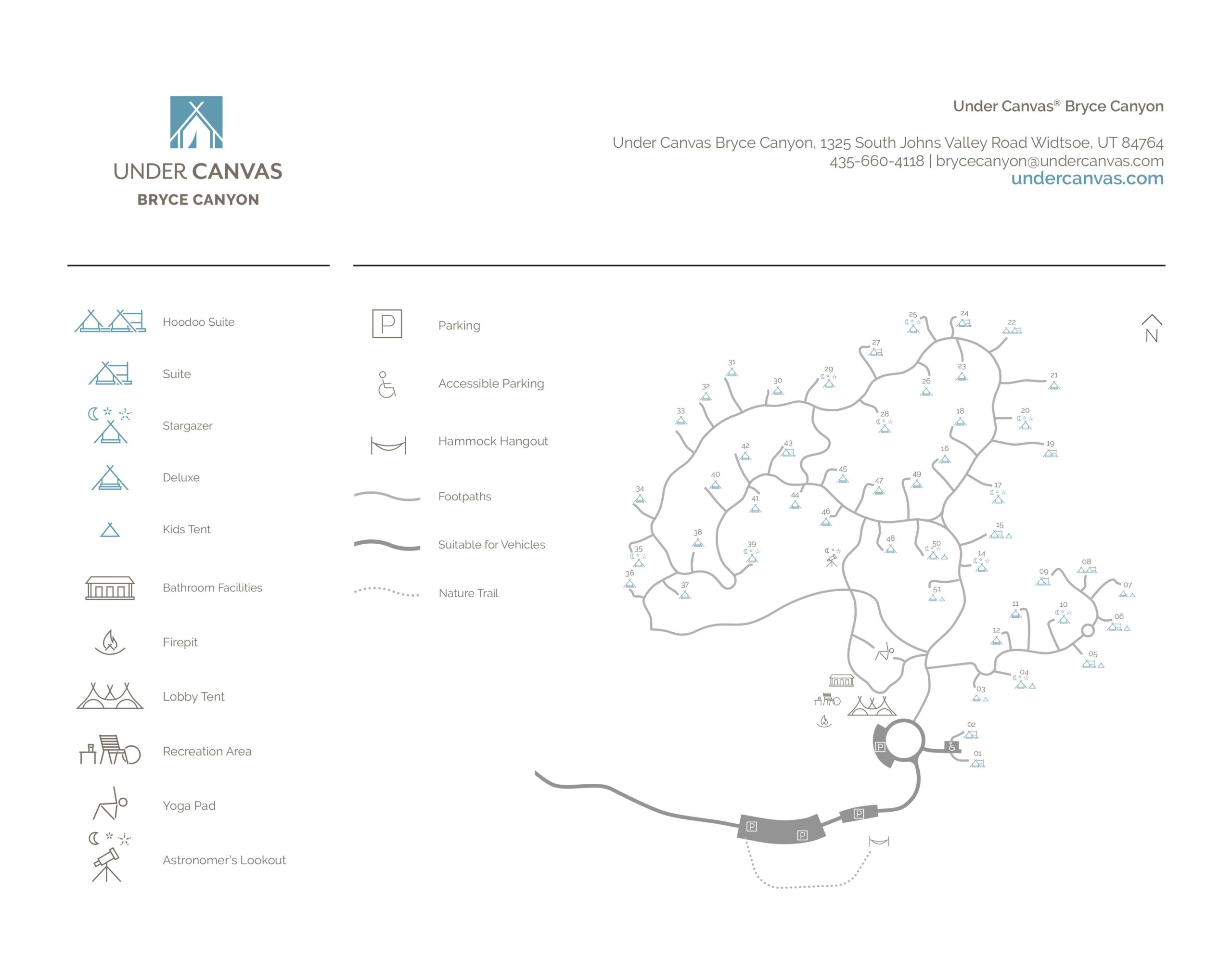 How far is Bryce Canyon from Zion?

Bryce Canyon National Park is an 80 mile drive or an hour and a half away from Zion National Park.

Are dogs allowed in Bryce Canyon National Park?

Dogs are allowed in the national park but only in parking lots, on paved roads, paved viewpoint areas, on The Rim Trail between Sunset Point and Sunrise Point, On the shared use trail between the Park Entrance and Inspiration Point and must be leased. You may not leave your pet in the car while you hike. If you would like to explore similar landscapes and hike with your dog check out the nearby Red Canyon. Check out our blog on the Best Things to Do with Dogs Around Bryce Canyon National Park.

Can you drive through Bryce Canyon?

Yes! The main park road is 18 miles long – from the entrance at the northern end of the park to Rainbow Point and Yovimpa Point at the southern end of the park. The Bryce Canyon Amphitheater area is located along the road's first three miles and offers a variety of popular hiking trails. The next 15 miles (known as Southern Scenic Drive) feature nine scenic overlooks that display a lesser-seen beauty of the park.
Discover the Grand Circle
Under Canvas boasts locations across the U.S., including destinations throughout the Grand Circle. Book your stay at Under Canvas Bryce Canyon and continue the adventure at Under Canvas Grand Canyon, Under Canvas Moab, Under Canvas Zion, Under Canvas Lake Powell – Grand Staircase, and beyond.